Sunday, November 23, 2008
Thursday, November 6, 2008
Men Not Allowed (2006)
Dir: Shrey Srivastava.
Cast: Payal Rohatgi, Tina Majumdar , Aryan Vaid and Tarun Arora (and some other folk too).


Before I continue can I just point out that my DVD of this fine film is (unfortunately) not subtitled but, for the sake of expanding my cinematic horizons (and hopefully get the scary Halloween remake fans off my back) I decided to stick with it.
The fact that it features to attractive ladies in a bath together (wearing magnificent swimsuits I must add) had nothing to do with my decision.
Poor little rich girl Tanya (the funktastically Big faced Bollywood babe Rohatgi) has grown up in the lap of luxury. Her father, the multi-millionaire business tycoon (and serial womaniser) Brian Sharma with whom she runs an exclusive advertising agency has always made sure that she wants for nowt, especially after her mothers untimely death.
Living the high life from an early age she has everything she could ever want, including a hunky fiance named Jeff Shekhar (spongy faced, manbreasted superstar Vaid, looking like Sylvester Stallone's cheese constructed younger brother) and a great line in primary coloured eighties fashions.
Everything except her fathers love and attention that is.
Sniff.
But Tanya's complacent existence is shattered when she comes home to find sleazy
Shekhar in bed with another lady.
Dumping the nasty rotter, Tanya vows never to marry and throws herself into her advertising work.
During auditions for a particularly day-glo fashion shoot, Tanya meets the erotically eyebrowed, obscenely long legged wannabe model Urmila (Majumdar, star of the fantastic Haseena and regular interloper in my dreams) who, depite her stunning good looks and tasteful line in Ra-Ra skirts hides a dark secret, a secret that could wreck her dreams of catwalk stardom forever.
"French polishers? you may just be able to save my life!"
You see, even tho' Urmila is a natural at wearing clothes, whenever she's asked to walk down a runway or pose seductively she goes all limp and falls over.
Which is a wee bit of a pain for the photographer really.
Tanya, concerned for Urmila's welfare (and obviously fancying a bit of lipstick lesbianism later) probes the model about her past.
Get the tissues ready because her family make Shannon Matthews mob seem positively normal.
You see, it seems that Urmila's deadbeat dad was a sleazy drug dealer who died alone (and stinking of piss) in prison whilst her mum was filthy drug addled whore that died in a mental asylum.
And if this wasn't enough she was sent to live with her pedo uncle who tried to molest her on a daily basis till he got bored and packed Urmila off to an orphanage where he hatred for men festered and grew.
Which is nice.
Tanya, being a good egg (and frankly gagging for a bit of hot model chick) decides to help Urmila overcome her fears and emotional problems by lending her a shoulder to cry on.
And a bath to share.
Phew! What a scorcher!
"Where's the soap?"

"Yes it does, but not as quickly
as when I masturbate with it".".
After a fantastically soft focused Sapphic inspired montage of knowing looks, licking of lips and friendly cuddles (which is the equivalent of x rated porn in Bollywoodland) Tanya and Urmila admit to wanting more than just, ahem, 'friendship' as a love that darn not be mentioned grows between them.
Awww, sweet.
If not a little too subtley done for this blog.
Enter the vile Benny Vikram (Arora, looking like a swarthy boss eyed Corey Feldman), studly celebrity and a top model.
His ambition?
To marry Tanya, cure her of her lesbian tendencies and take over her business.
Bastard.
And, alongside Tanya's bad dad hatches an evil plan to break the girls bond of friendship for ever and maybe even get rich along the way....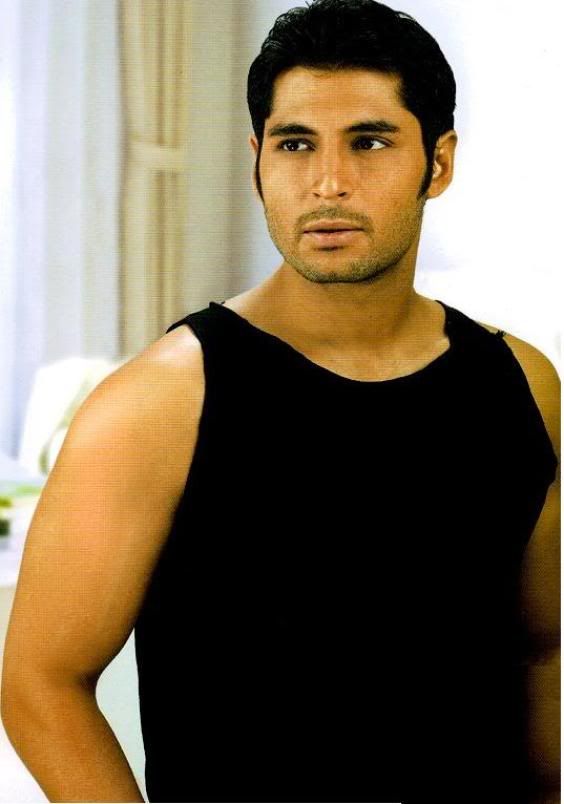 Riding on the coat tails of director Karan Razdan's movie Girlfriend (famous for being the first
commercial
Hindi film to tackle head on the subject of lesbianism), Shrey Srivastava (director of the toptastic
Sanjay Suri actioner
Insaaf)
joined forces with India's answer to Sharon Stone, Payal Rohtagi to produce this primary coloured kaleidoscope of high drama, market stall fashion and top tunes that (unsurprisingly) bombed at the box office yet still cemented Payal Rohatgi's reputation as the (never naked but usually wet) sleaze queen of Bollywood.
Which is fair enough really.
If you're a fan of Bollywood (or just from the Midlands - that's in the UK for our overseas readers) then you know what to expect, and whilst it never scales the dizzying heights of such classics as Disco Dancer or even Raja Nawathe's Gumnaam and is (albeit only slightly) more frightening than Bandh Darwaza (but for different reasons) it's still worth a looksie, if only for the sight of that saucy minx Rohatgi in a variety of eyeball searing outfits as she totters about on big heels to Sanjay Srivastav's groovy disco score.
Posted by Ashton Lamont at 6:55 AM 1 comments  

Links to this post
Labels: film, manbreasts, music, reviews, sexyness
Saturday, November 1, 2008
Not much time to update recently but I couldn't let last months stiffs pass unnoticed....
Renegade Time Lord Omega's (second) incarnation Ian Collier passed over into the Eye of Harmony of unspecified causes (prolly exposure to black hole radiation). Aside his two appearances in 'The Who', Collier graced such classic shows as Rentaghost, Hi-de-Hi! and Howard's Way with his presence.
Estelle (mother of Rob) Reiner, the actress best known for answering Meg Ryan's fake orgasm in When Harry Met Sally with
"I'll have what she's having"
scoffed her last sexy salad last month as did Levi Stubbs, lead singer of legendary pop combo The Four Tops at the age of 72.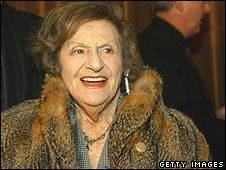 Kim Chan, American actor and producer famous for his roles as The Ancient in
Kung Fu: The Legend Continues
, Martin Scorsese's classic
The King of Comedy
(playing Jerry Lewis's butler) as well as playing Jackie Chan's father in
Shanghai Knights
, Uncle Benny in
The Corruptor
and Mr. Kim in
The Fifth Element
high kicked his way to kung fu heaven alongside top newscaster Bob Friend, cult teevee star Peter (
Danger Man, The Saint, The Avengers, The Forsyte Saga, The Troubleshooters, The Champions, Department S, Doomwatch, Z Cars, Survivors, Doctor Who (Pyramids of Mars), Tales of the Unexpected, Miss Marple, Lovejoy, The Bill, Cadfael and One Foot in the Grave
) Copley who, when not treading da boards was a legal expert and part-time lawyer.
Neal Hefti, American jazz trumpeter, composer, tune writer, and arranger most famous for composing the 1960's Batman teevee theme joins cartoonist, illustrator and satirist Ray Lowry in the big gig in the sky and we say a final farewell to the director of the notorious Deep Throat, Gerard Damiano.
As well as that famous Linda Lovelace and Harry Reems starrer (famously financed by the Mafia) he also gave us The Devil in Miss Jones and the kinky classic The Story of Joanna.
And for that we will all be eternally grateful.
Posted by Ashton Lamont at 12:11 PM 0 comments  

Links to this post
Labels: dead